The Office of the Provost and the Center for Teaching Excellence are pleased to announce a new award recognizing exemplary online teaching and a sustained body of exemplary online teaching practice. The University of Florida Online Educator of the Year Award recognizes exemplary online teaching that includes high-quality course design and effective online instructional delivery methods relevant to student engagement, student learning gains, and student satisfaction.  Please visit the Online Educator of the Year Award Requirements page to apply and learn more.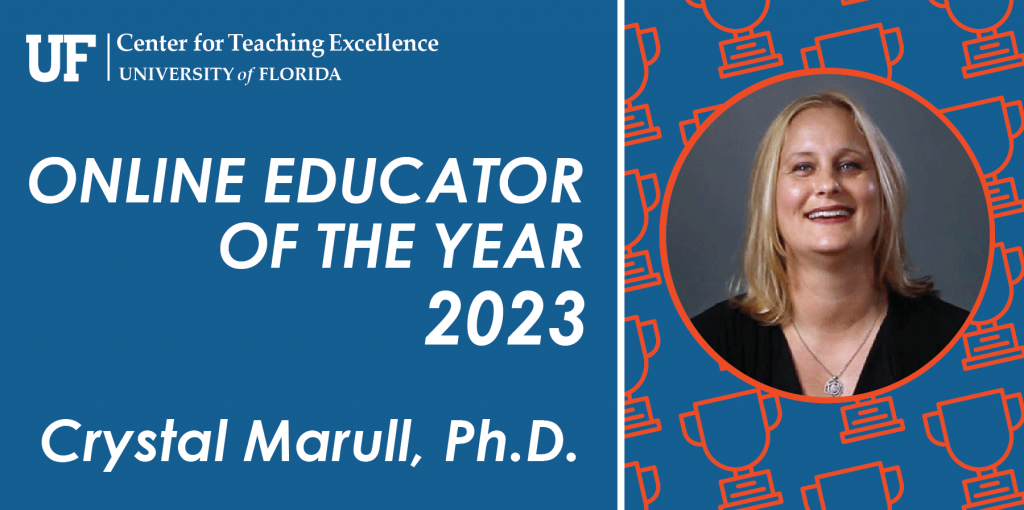 2023 Online Educator of the Year
Crystal Marull, Ph.D
Lecturer
Online Spanish / Spanish and Portuguese Studies,
College of Liberal Arts and Sciences
Dr. Marull has demonstrated a dedication to providing high-quality instruction to students in online courses and made exceptional contributions to online education. She has been instrumental in developing and implementing innovative online teaching strategies in her courses and sharing these strategies with educators. Dr. Marull's work has served as a model for learning languages and as an example of course design and delivery in other disciplines. Her commitment to creating engaging and interactive online learning environments has resulted in consistently positive feedback from students and colleagues alike. The selection committee was impressed by her innovation in teaching, incorporating active, experiential learning that results in practical skills students can use.
Dr. Marull has also significantly impacted our university community through her service as a Teaching Excellence Faculty Fellow, Faculty Learning Community facilitator, and conference presenter Throughout our local community and abroad, she has served as a mentor, Alachua County School District advisor, and UPCEA Vice Chair.