To submit an Exemplary Online Award nomination, form in ProposalSpace and provide the items listed below before February 20, 2020 to be eligible to receive an Exemplary Online Award at Interface 2020. (Submitting early will give you a chance to make updates or changes based on reviewer's feedback prior to final submission.) Submissions that are incomplete will be removed from consideration. Documents MUST be uploaded within the ProposalSpace nomination form. Documents that are emailed will not be accepted.
The following information is included in the ProposalSpace self-review form:
Instructor information: name, email, department and college
Course information: title, prefix and number, section number, term and year, and home page URL for the nominated course
Course delivery system (Canvas or other)
Nomination categories (see above)
Course teaching assistants, collaborators and production personnel (if applicable)
Instructor permission for QA reviewers to access the nominated course site
Description of the exemplary or innovative aspects of the course along with URLs linking to examples within the course
Reflection on the student evaluations — what worked well and plans for improvement
Self-Review of nominated course must be done in ProposalSpace using the Pathways to Online Teaching Excellence Course Reviews self-review form that is based on the UF+ Quality Matters rubric.
The self-review MUST include links to examples of excellence within the Canvas (or other) course site for the nominated term
Student evaluations (GatorRater .csv, GatorEvals or Excel file) including comments from the nominated term
Include the course prefix and number in the filename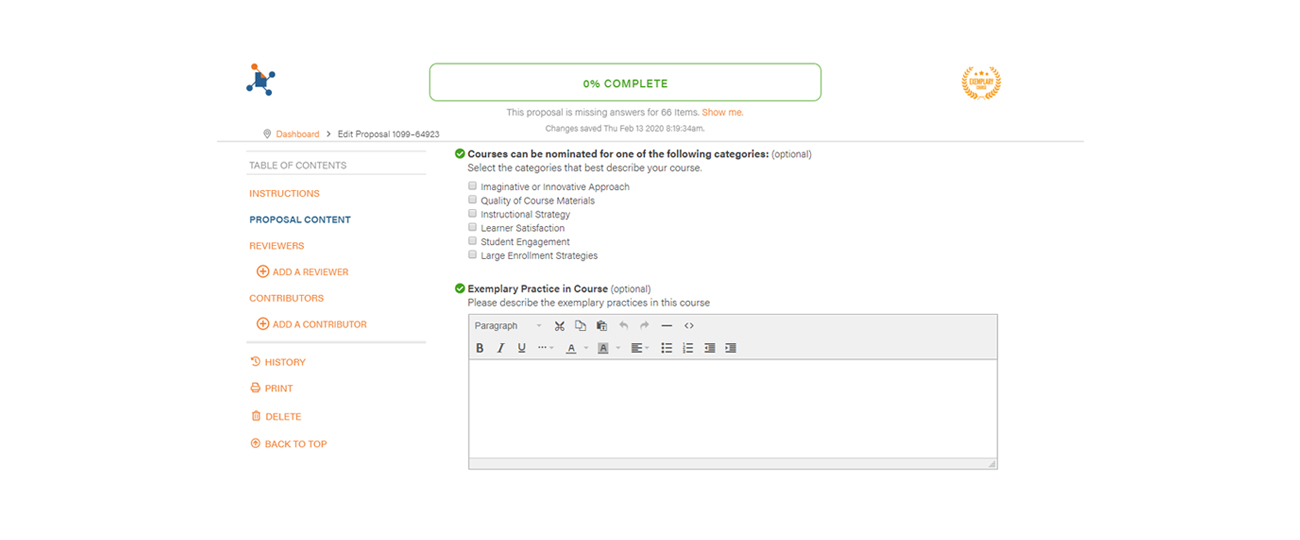 Course instructors must grant/provide temporary facilitator access to nominated courses the Center for Teaching Excellence. Awards will be presented at the annual Interface Conference. Award recipients may be invited to share the exemplary or innovative practices used in the course at this event. In addition, a multimedia presentation will be created to showcase each course receiving the award and made available through the teach.ufl.edu website.
Courses can be nominated for one of the following categories:
Imaginative or Innovative Approach
Quality of Course Materials
Instructional Strategy
Learner Satisfaction
Student Engagement
Large Enrollment Strategies
For questions about the nomination form or the awards, contact Alexandra Bitton-Bailey or Nikki Lyons.